In Jeremy's 20 years as a stonemason he has had the experience working with many available products and materials. As the trade evolves, Jeremy works hard to keep up with the advances in techniques and products. Natural thin stone veneer is a relatively new product among one of the oldest trades known to mankind. For over 30 years Stoneyard.com has been at the forefront of these advancements. In recent years, Jeremy has fostered a special relationship with David and Jerry Croteau, Founder and President respectively of Stoneyard.com giving him unprecedented opportunities and access to the finest quaity, cutting-edge products in the Natural Stone Veneer industry. Jeremy was privileged to offer up his craftsmanship when given the opportunity to build the fireplace and some of the sample panels which are the focal points of their Littleton, MA showroom.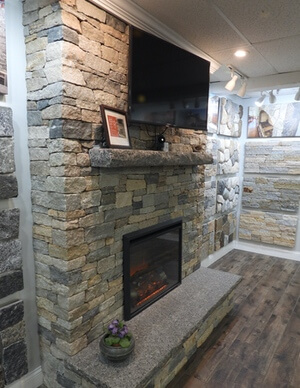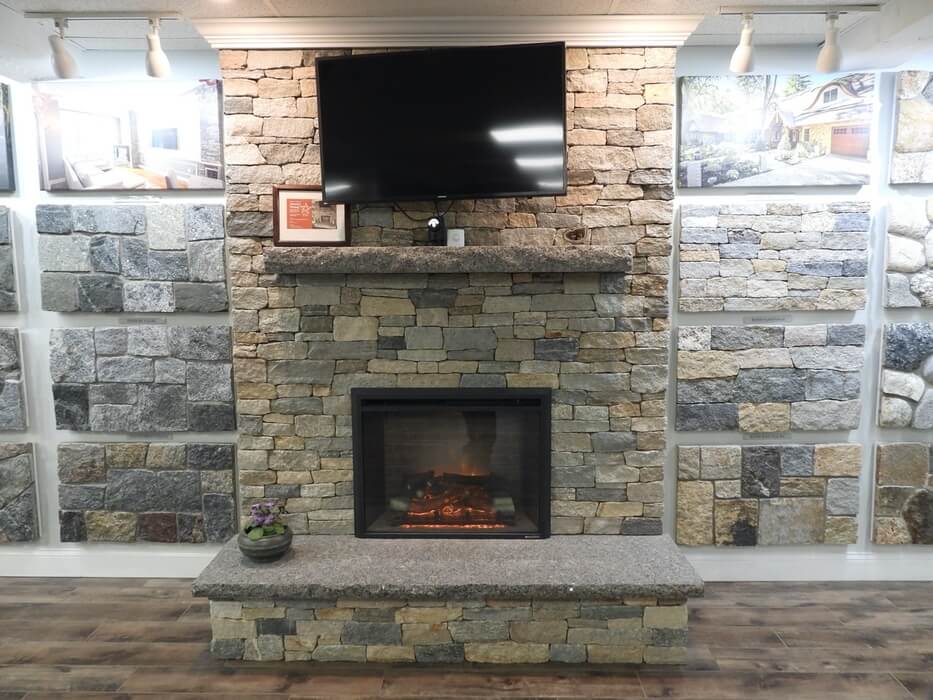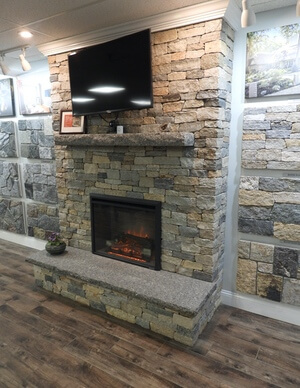 Other than custom fabricated stone elements and details, Unmistaken Stonecraft is proud to exclusively use Stoneyard.com Natural Thin Stone Veneer. Click the button below to view their catalog of stone veneer colors and shapes, including their exclusive and unequaled Boston Blend thin veneer.
Are you contemplating a natural stone veneer project for your home? Hiring the right stone veneer contractor may be the most impotant decision in the process. The following list from Stoneyard.com includes some key questions that should be asked to aid in deciding which contractor is right for you.
Choosing natural stone veneer for your home is not only going to add unique beauty and sophistication but adds value and curb appeal. The thoughtful installation of stone veneer for your home has an unmatched return on investment. Read this great article from Ply Gem on this subject below:
Jeremy Young, Owner of Unmistaken Stonecraft, has built a number of invaluable relationships among the builders, contractors, manufacturers and suppliers with whom he collaborates and whose products he employs. The following is a list of some of these noteworthy companies which have played such an integral part in the execution of Jeremy's work:
Jeremy has worked alongside a number of quality builders and contractors over the years. One of these is R.C.Keddy Building and Contracting from Hardwick Massachusetts. Ron and his sons are custom builders and master carpenters, building homes in Central and Western Massachusetts. With a reputation for the highest quality craftsmanship R.C.Keddy builds homes that are the perfect setting for the creative stone-work produced by Unmistaken Stonecraft. Jeremy is a proud sub-contractor of R.C.Keddy Building and Contracting!
Unmistaken Stonecraft was recently mentioned on page 10 in the September issue of the Worcester Living Magazine, along with R.C. Keddy Building & Contracting. Read the article.
Trow and Holden – Stonecutting and Masonry Tools
When it comes to installing stone veneer or carving and fabricating custom stone details, it is important to have the right tools to get the job done. Without his carbide tipped bushing hammer and rock pick, Jeremy could not achieve the tight fit and natural look to the stone veneer he installs. Trow & Holden, located in Barre, Vermont has been the leader in fine stone-working tools since 1890.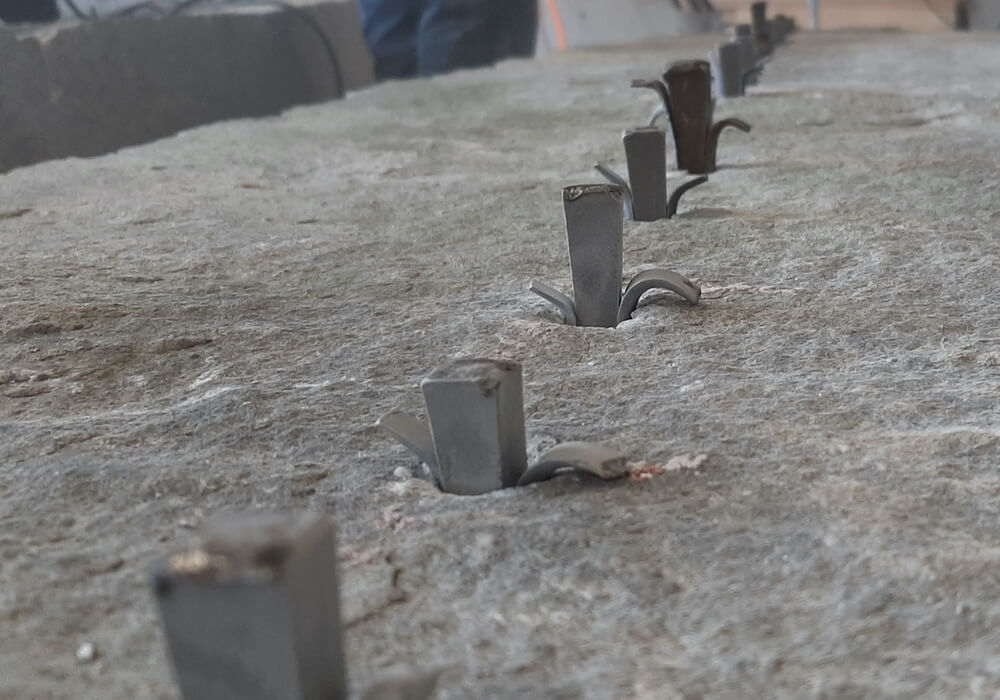 Since 1974 the Kennebec Company has been befitting homes with their prized period style cabinetry. They have earned their place as one of the premier cabinetmakers on the east coast. Jeremy of Unmistaken Stonecraft is honored to exibit his work alongside the exceptional displays of craftsmanship produced by the Kennebec Company.
Ardex | Tile and Stone Installation Systems
Unmistaken Stonecraft always uses the finest quality materials and products for all of the preparation and installation of their projects. The mortar he uses is no exception, Ardex X-77 Microtec fiber reinforced tile and stone mortar has the highest performance of any product on the market. Ardex is the international industry leader when it comes to tile and stone installation products.
A stone that looks satisfied with its position reflects the sense of ease the waller felt when placing it there.
~ Dan Snow
Let Unmistaken Stonecraft help you design and install your next natural stone project.