Floating Wall Project (continued)
The master bedroom, with its cathedral ceiling would be over 20 feet high at the peak. When the framing and exterior were completed, we were  just in time for our daughter's wedding, tents and all. With the guests arriving, even before the insulation, we moved into the unfinished bedroom, along with a heated mattress pad, that is.
It seemed a shame to build a closet wall all the way to the ceiling, which would have eliminated the expanse of so much overhead visual space. Instead, we conceived of a 6-foot standalone stone and timber wall without doors to separate the sleeping area from the open walk-in closet behind.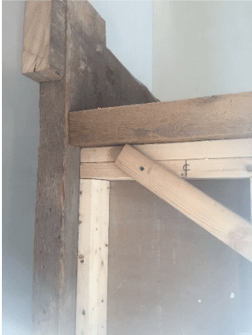 The floating wall frame was constructed using reclaimed 4×6 posts, joined with pegs to 6-foot horizontal beams bolted firmly to the west wall. The studs were recessed 2 1/4 inches to allow for the backing and stone veneer not to protrude forward before the frame. Solid, stunning and expertly crafted by Dovetail Woodworks of Mashpee.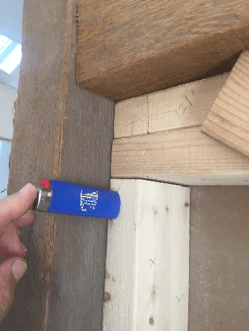 Now, we needed the stone, and here is where Jeremy's story begins.
First, we drove around and took photos of stone, which had to look like it had just been gathered from around the property, just as colonists had always done. By then we knew stone veneer, weighing less than full stones, would be better supported by our underlying joists. Then we went online to find a veneer that matched our best photos. There were far too many choices, and far too many stone vendors from Cape Cod to Providence. At last we matched our stone photo to an image with no label or description, on a website somewhere far away. It was the only stone we liked, but had no way of finding it without alerting an entire sales team to hound us to the ends of the earth. Sure enough, the very same stone appeared numerous times, in Google images, from the website of Stoneyard (https://stoneyard.com/) in Littleton, Mass, with a stone veneer clearly labeled Boston Blend Round.
I called them immediately—it was available and in stock. I asked for names of people that might install them on Cape Cod, and received three names. I called the first, who would not come to the Cape from so far away. For the second, I left a voice message and would not hear back for several days. The third was Jeremy Young of Unmistaken Stonecraft.
Within a few minutes, Jeremy and I were having a very personable phone conversation. As it turns out, he had expected my call, having already received the referral from Stoneyard. Fortunately, Jeremy had an uncle who lived near us on the Cape, and intended to visit that very weekend. He would stop by our house and take a look.
That sunny Saturday, Jeremy arrived as he said he would. Jeremy was enthusiastic about the unfinished space. We provided some drawings of what we had in mind. He began to describe his vision of the final masterpiece, swiping his phone through numerous example photos of his work, all original, mostly projects significantly larger than our own—an impressive portfolio it was.
At that point, our floors were still raw plywood. The cathedral ceiling had by then been sheetrocked and insulated, but still unfinished. Jeremy offered to source the reclaimed wood for us, pick it up and deliver it with the stone when he could start the project in 9 to 10 days. He would hand select both the rough-sawn pine, Douglas Fir beams and the Boston Blend Round stone, and not purchase them in bundles that might otherwise hide defective pieces. We trusted and appreciated his discerning eye, and handed him the material list we had already prepared, along with our drawings.
Jeremy immediately called his contact for the wood at TS Mann, and within a few minutes Jeremy had quoted the entire job including labor, materials and delivery. We told him on the spot to go ahead with the whole project and gave him a 50% deposit—confident the job was in good hands.  
Early the next Monday, Jeremy arrived in a truck and within minutes he and I were handing the 16 foot 4×6 timbers through the bedroom window and stacking them against the wall. All magnificent hand-selected members, with the rough sides arranged to face the room, the fresh sides cut to face ceilings and walls. Materials for the future ceiling project were ready to go the moment the stone was done. One less thing to think about.
Jeremy carefully covered the bare floors and set up shop. Against the studs on the floating wall, he fitted the Wonderboard that would structurally support and properly adhere to the stone. After setting up improvised workspace outside the sliding door against boulders of the retaining wall, Jeremy was entirely in his element. He worked tirelessly, serenely and purposefully, piece by piece. It occurred to me that Jeremy had perhaps built the Parthenon in a previous life, or Machu Pichu—tools or no tools.
His first objective was shaping the stones that would contain openings for two electrical outlets in each lower corner, and swag lamps for bedside reading. Carefully positioning stones in "better than random" way, Jeremy made certain the varied colors and textures were artfully distributed throughout the visual space.
As Jeremy worked each day, Melissa occasionally brought him lunch and snacks. He had dinner with us on a couple of occasions, with many enjoyable conversations about his fiancé, her animal therapy practice with horses and the adventures of keeping up with his 10-acre property.
Jeremy has since been married, and we still follow his energetic life on social media, admiring his work, country life and his dedication to the appropriately-termed Unmistaken Stonecraft.
Bit by bit, what we had once called a "floating" wall no longer deserved such a transitory term. It was a Standing Wall now, every bit as solid as the northern fortification of Westeros. John Snow himself would have approved, as we bid a fond farewell to Jeremy Young when the final stone was placed."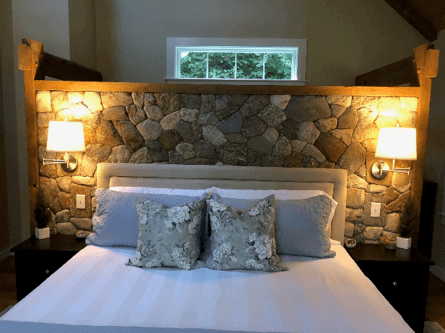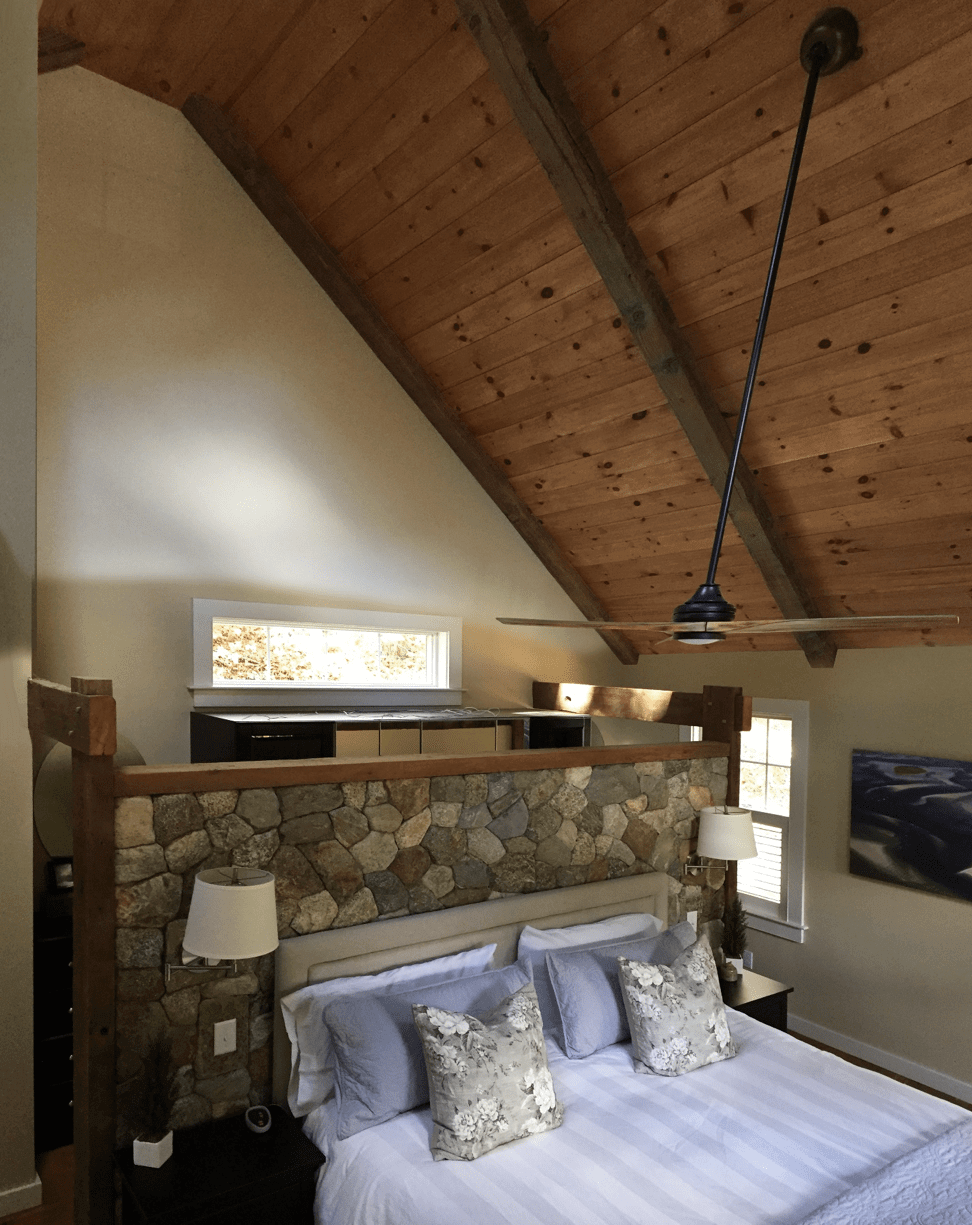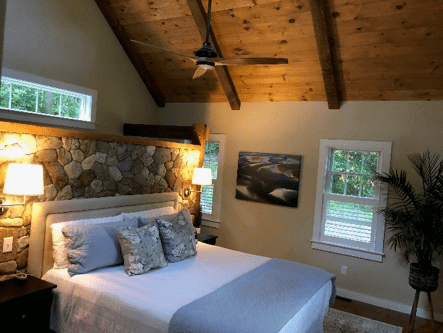 Let Unmistaken Stonecraft help you design and install your next natural stone project.